Prefabricated Structures
(618 products available)
You will find reliable manufacturers, suppliers, dealers and exporters selling Prefabricated Structures, Prefabricated Industrial Structure, Prefabricated Steel Structures, Prefabricated Tubular Structure and more.
Explore Prefabricated Structures Categories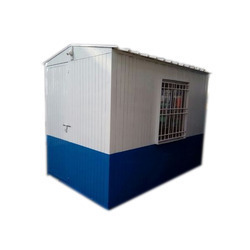 Minimum order quantity
1500 Square Foot
More
Supply Ability
10000 Per Month
Minimum order quantity
2500 Square Foot
More
Thickness Of Wall Panel
Customized Feet (ft)
INDUSTRIAL ROOFING SYSTEM
Pithampur, India... More

13, Taif Complex, Mhow-Neemuch Road, Industrial Area, Sec 1 Pithampur, Pithampur, India
Prefabricated structures are built through assembling the parts or elements required for construction one by one. The complete or sub complete structure is then made available at the site where it is finally made to stand. Prefabricated structures are considered to be flexible as it can be easily dissembled and moved to other places. Nowadays, prefabricated structures are preferred due to their cost effectiveness, steadiness and impeccable response.

Advantages of Prefabricated Structures :-
Easy assembling and disassembling
Consistency
Reduced costs
Off site fabrication
Possible Shifting

Why Trade India?

Trade India makes it easy to choose the right prefabricated structures from hundreds of verified suppliers. Once you've shortlisted the prefab structure supplier, you can contact them directly through India's #1 B2B marketplace, Trade India.
Apart from the above, you can also browse our comprehensive listings of prefabricated steel structure, Peb structural shed, Prefabricated houses, and more for seller listings, best rates, and bulk buying.

The details of all prefabricated and portable buildings and their sellers is listed on Trade India.com. You can compare several different OEMs, wholesalers, traders, dealers and exporters of prefabricated structures on a single page. You can also analyse product types, models and pricing of each to zero down on what suits you the best.These are most popular in the market i.ePrefabricated structures in Faridabad, Delhi NCR for the manufacturing, exporting and constructed.